Where in the world am I??
A Peggie tip for lost lambs: Please stroll down to access page!



+ + + + + + + + + +

See "Credits" on a laptop computer, please, to access current important credit/issues info.

Seasonal features:
"'Twas the Night before Easter" - an EASTER feature

HOME . . . A Site Map of Peggie's Place! . . . 16 Resource Rooms . . .
Holidays . . . Humor and Inspiration . . . Devotionals . . . Virtual Chocolate Shop
Peggie's on Twitter . . . Peggie's also on Facebook( . . . Peggie's blog, "Fun 'n Faith for the Soul" is no longer available.
Kids/families . . . . . Teens/students . . . . Women . . . . Men . . . . Seniors . . . . Spanish resources . . . . Internationals
My Indescribable, Personal Christ . . . Spiritual Help: The Emergency Room . . . KingdomQuest: Discover the Key to Life
Please note: All music no longer plays automatically. Turn on manually to play.

Song credit: "Brother Ephraim: Weapons of Our Warfare." -
A dessert bar devo from God's Banquet Table, The Devotional Buffet and Peggie's Pen!
Welcome to the Dessert Bar, special devos that Peggie will write on occasion, in addition to the 500-plus devotionals archived at the Devotional Buffet. "O taste and see that the Lord is good (Psalm 34:8)." Let's feast on the richness of His Word--it's a banquet fit for a king, and you're a King's Kid--so come on in and enjoy!

Archives of the Dessert Bar Devos

Bethlehem: The Town, the Tanks and the Trauma!

by Peggie C. Bohanon, Webmaster and Creator of Peggie's Place!
Have you seen the headlines--how can you miss them! "Tanks Move into Bethlehem"--the town where Jesus, the Prince of Peace, was born. How does that affect you as a Christian? I feel sadness as the words of a well-loved Christmas carol ring in my ears, "O little town of Bethlehem, how still we see thee lie." Well, it's not still today, and while I am not about to make any kind of political statement, I believe there's a message in the story of the town, the tanks and the trauma!

"Keep your eye on the Middle East!" Those words, spoke by my late dad, a faithful pastor of God's Word for many years, also ring in my ears today. He spoke, of course, of the Bible prophecies rapidly being fulfilled, of the Last Days, of the Soon Return of Christ. And while it is valid now more than ever, there's also another message in the story of the town, the tanks and the trauma! Hang on--for the daughter of her late beloved pastor-dad has a 3-point sermon for us all!

Tanks of Fear

Have the tanks of the adversary rolled down YOUR street today? Not tanks that defend or attempt to bring an end to terrorism. No, these are tanks that defeat and destroy your very soul, rolled into town by an enemy with full intent to destroy you. Fear will traumatize you into absolute terror over circumstances of which you have no control. The "what ifs" of life will worry you until you are a walking ghost, enchained by overwhelming fear you cannot shake.

Well, Satan has no power over the child of God. Fear is from the pit of hell, and to the pit of hell you must send those tanks roaring. Replace the tanks of hell with the truth from heaven - "Perfect love casteth out all fear." The devil must flee in the Name of Jesus. Let the tanks that rolled into your life roll right out today--and let the Prince of Peace be victorious in your world today!

Tanks of Anger

Tanks of Anger rolling down your street and about to tear up your front lawn? Hold it--that anger is not heavenly; it's but another tank of trauma with which the devil would like to control your world. He'd like to poison your spirit and imprison your soul with hatred, resentment and unforgiveness. The tank of anger will roll over your very life--it will hurt you more than the person who hurt you if you let it.....so beware--don't let it in YOUR town today!

What to do? Let it GO--however justified your reasoning and your cause. Let it go--and you will experience peace that can come ONLY from the Prince of Peace born in that little town of Bethlehem so long ago. HE is your peace--and the tanks of the enemy must flee when HE says GO! Believe it and be set free in His Name today.

Tanks of Depression

Eyes filled with tears can barely see them--but they roll down your street and into your soul. Tanks of depression that bring sadness, despondency, disillusionment--and death. Depression may result from chemical inbalance and of course, needs medical attention; however, I'm talking about the tanks of the enemy that come and go in the lives of Christians....one day we're up, next day we're down. The devil has a way of bursting balloons, of driving one word or thought deep within the spirit--and down we go. Down into the depths of despair that rolls into our lives without relief.

But there IS relief--there is victory for the sad spirit and soul. It's found in the Name of Jesus, the Prince of Peace--who can, in one word, dispel the darkness and fill your soul with HIS joy-- and His Strength. Don't cower in a dark, dingy corner of your world--come out into the sunshine of God's love and joy. Claim HIS victory in your life this day.

So the tanks from down below MAY roll into your town bringing trauma beyond your ability to cope. You CAN'T bear it or battle it alone......but "Keep your eyes on the road" for, I hear rumbling on the horizon--it's the tanks of God's triumphant hosts - His peace to dispel the fear, His grace to forgive the wrongs, and His joy to replace the sadness. He is the heavenly conqueror and He's on the way to win YOUR war.....watch for the tanks of your conquering Lord--they are mighty to the pulling down of every stronghold--and they are headed for YOUR town! Trauma is turned to triumph--for the PRINCE OF PEACE is alive and well - and working - in YOUR Bethlehem today!

...and that's just a little "food for thought" from my heart to yours!

Please scroll down to see Bethlehem photos!

"Grace to you and peace from God the Father and our Lord Jesus Christ, who gave Himself for our sins, that He might deliver us from this present evil age, according to the will of our God and Father, to whom be glory forever and ever. Amen" Galatians+1:3-5
"Lord, the tanks of fear, anger, depression are rumbling into MY town today. I ask Your help and defense as I refuse to succumb to the tactics of the enemy and claim victory in the Name of Your Son, the Prince of Peace, In Jesus' Name, Amen."
TODAY'S FEATURED LINKS

The Christian Armor Room at Peggie's Place
All Scriptures are taken from the King James Version of the Holy Bible.
Copyright 2002 by Peggie Bohanon, Springfield, MO. All rights reserved.
Not to be copied without permission.

Enjoy these photos of Bethlehem taken in 2001 by a good friend on a Holy Land tour.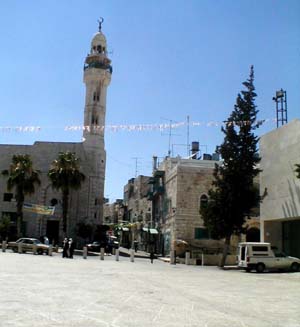 ... Manger Sq./church entry ...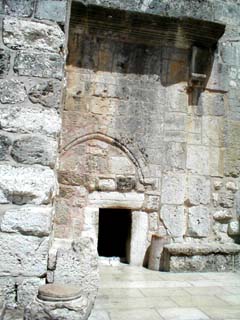 "O Little Town of Bethlehem!"
"But thou, Bethlehem Ephrathah, though thou be little among the thousands of Judah, yet out of thee shall he come forth unto me that is to be ruler in Israel, whose goings forth have been from of old, from everlasting (Micah 5:2)."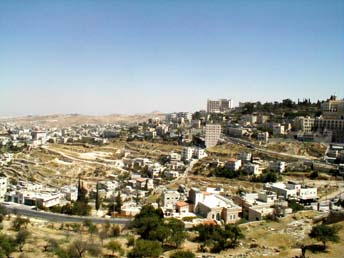 ... Bethlehem/alleyway ...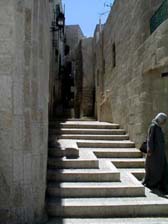 With thanks to Songs of Praise
for the beautiful music playing at Peggie's Place.
The original composition is entitled, "Weapons of Our Warfare" by Brother Ephraim.

Please e-mail me to say hi.
Thanks for visiting the Devo Dessert Bar today! Hope you were refreshed, and you will return!
I'll be waiting for you--and so will He! God bless!

If you enjoy these devotionals, you are welcome to visit "Peggie's Place!",
and tour the rest of my home, with many resources for the Christian family.




Dessert graphics:

With thanks to Songs of Praise for the beautiful music playing on this page.
Visit Songs of Praise for other beautiful tunes by many talented artists (CDs are available).
All Scriptures are taken from the King James Version of the Holy Bible.
Peggie's blog, "Fun 'n Faith for the Soul" is no longer available.
F O O T E R
See Search Engine Submission - AddMe
Important note on Bible versions: (and for further info including any copyright info), I recommend you search the exact Bible version on the Internet.) The public domain version of King James Version is primarily used in this Web site; other versions and in-depth information about each may be found at Wikipedia: Bible versions and translations for further information. You may contact me at pbohanon@peggiesplace.com and I will be glad to help you further. Sorry this info is not on the hundreds of references on this site but this info should be very helpful. If there is a problem, please contact me: pbohanon@peggiesplace.com. Sorry for any and all errors. You are welcome to copy/print the poem - Please use "copied with permission" at the end of the poem.)
Note: As of 11/30/15, sites will no longer be checked for dead links. Please contact owner at peggiesplace.com due to tremendous amount of links.

Peggie's Place is a personal ministry website
and has been a member ministry of Gospel.com, a community of online ministries. In limbo at present.

Also, my mobile phone is private and should not be considered a part of my public web site.

See "Credits" on a laptop computer, please, to access current important credit info.

See Credits at Peggie's Place for further information. . . . See Privacy Statement at Peggie's Place! . . .
Peggie's Personal Statement of Faith . . . The Peggie's Place Story & a Mission Statement

Celebrating God's goodness . . . . . . 16 million and more!
Note: Counter keeps a running total of "hits" (which include images and people "hitting" any page or pages),
erroneously identified by me as "page views" for the entire site.
--It jogs around the world and around the clock--to find YOU!
This Christian home has been visited a zillion times since December 26, 1995!
Well, not quite, but there HAS been a houseful--and STILL room for one more--YOU!
The Christian Counter scans the entire site--and there's plenty of chocolate for everyone--so enjoy!
AddThis.com . . . Search Engine Submission - AddMe
Thanks, AddMe, for promoting Peggie's Place, including my new TWITTER page!

Most of the music playing at Peggie's Place originates from Songs of Praise.
Additional (previously named) original source for some midis: Gilberto Barreto.
Visit this great Web site to hear beautiful tunes by many talented artists. CDs are available.

5*-places to visit at Peggie's Place: Tickles 'n Truth . . . The Devotional Buffet
All the rooms at Peggie's Place!

All Scriptures on this website, including all applications, etc., are from the King James Version of The Holy Bible, public domain, unless otherwise noted.
I regret any and all errors. Please notify me so I may correct it. - pbohanon@peggiesplace.com
+ + + + +
Please note that while I strongly adhere to major tenets of the evangelical Christian faith, I may not personally agree with every specific doctrinal belief set forth in other Christian pages.
Life issues include hosting a few private home parties perhaps 30 years ago with "gifts" given me for having a party or many purchases from guests, etc., no dates or total amount available including tax if any. I regret all omissions/infraction of law. Any official may contact me and I will take care of all issues as best I can giving to charity if that is permissible instead of tax or penalty. I regret all omissions and errors on this or any other page on this site.
A safety tip: Internet links and material may include other links and/or material which do not reflect my views or yours, Christian or otherwise. Please choose wisely and use with discretion! And if you find an ugly spider hiding in a dark corner, you may smash it with a broom--I hate offensive stuff too!
Graphics: If your credit does not appear on any individual page, I regret the oversight; please see Credits at Peggie's Place for info,
or email me: pbohanon@peggiesplace.com so I may properly give credit or delete the graphic, as desired.
--Many quote credits in this series: Mikey's Funnies and/or Walking with Jesus Ministries, unless otherwise sourced or not given.
--I have used the symbol - ;-) - in emails, on any social media page, possibly my website and blog, etc; if this is incorrect, sorry for the oversight. Please notify me at pbohanon@peggiesplace.com and I will desist from using it if necessary. Sorry for the oversight and any errors.
Peggie is on Twitter and currently unable to add a profile photo to the most current twitter page - Peggie's "Twitter" account - it appears as a "eggshell" and is not spam. As soon as I can get it working, there will be a photo. The current page is not spam, I assure you. My web site is found at Peggie's Place!.
Should you have source information (original or other) for any other site as well - quote, other photo, duplicate profiles, graphic or article and/or not properly used, or duplicated photos or profiles not permissible, https://twitter.com/Pegleg1940 or other sites, credited, resized, improperly, unpermissioned or inadvertently used as a profile photo, undesirable, etc., "unknown," or from which I should obtain permission, or should linking be inappropriate/non-permissible/inaccurate, or a misunderstanding/error of any and all issues including Tickles 'n Truth articles and graphics, please notify me so I may appropriately resolve the issue.
Please be sure you always are seeing the most recent links to my page by accessing my current Web site, peggiesplace.com. Please notify me if any such errors you find so I may correct them in any of my files, or photos that should be or not have been deleted. I regret any such/similar errors.
Content of many pages have changed since their original creation and use, whether on Facebook, Twitter, Wordpress, etc.
I trust each section of this web site and applications have separate profile photos for each and regret any duplication between various applications/sections. I want to diversify as much as possible. Note: As of 11/30/15, dead links will not be deleted due to large amount. Contact me for details on a specific link. Sorry.
Official and professional wedding photography of Maureen and Jason Bohanon shown on this site was taken by Meg White Photography, Springfield, MO.
Disclaimer: I am not a psychologist or certified counselor or doctor. This personal site is merely a place for spiritual encouragement and help in the practical living of Christian life.
This footer and reference to violations and/or wrongdoing or errors applies to the entire site considered a part of Peggie's Place and its entities - every page of this site and back-up drive, past, present and future, should a page or two have been missed in including this footer at the end of said page.
I am not perfect, have you guessed!! I am a senior having fun and frustration, attempting to tentatively fit into a very, very technical world. Please forgive any and all "infractions," intrusions, inaccuracies of the law; anything I have missed or forgotten, any technical difficulty, any omission of a home or fashion "party," including about 30-years-ago home parties (w/free mdse "gifts" for certain requirements) of which I have no dates, amounts/ and no tax if not requested by party manager), etc., and if so, write pbohanon@peggiesplace.com to let me know and inform me how to correct it properly in accordance with the law. I regret and am sorry for any and all errors on the web and otherwise as mentioned or omitted above, including any home/household "infractions" and verbal wrongs. As well, if I owe any amounts of money for services or items, I am sorry; please bill me at the same address. This includes my personal mobile phone as well as laptop computer.
Most, if all not, devotionals on this site have been written by Peggie unless otherwise specified.
ete any reference on a business card or online, etc. for this phrase. It is not original with me and I regret the error.)
"Facebook" is a popular site on the Internet and also at Peggie's Place. I regret using the term and initials in various places but it is for id purposes only.
The phrase "where strangers are friends who have never met" on this site, and name/ministry cards, etc., was not original (See Brainy Quote and del See copyrights on all articles. If missing, please let me know: pbohanon@peggiesplace.com
I willl correct or delete with your permission.
I regret any and all omissions and errors throughout my entire site and its entities and wish to correct it as necessary. Please contact me. Also, some items on my mobile phone/computer/back-up drie are private and should not be considered a part of my public web site.
Peggie's Place owns no personal trademarked or registered sites requiring symbols of ownership. Neither is indicated trademark symbol for any product.Please disregard any and all errors.
This Peggie's Place footer applies to entire site and ministry of Peggie, and includes all social media, photos and images, included, resized, or omitted in error, inclusions, omissions or inaccuracies, the Fun 'n Faith blog, an extension of the Peggie's Place ministry as well as previously titled "Fun 'n Faith Friday" and "Fun 'n Faith newsletter and any mobile application." Sorry, but email subscriptions have been canceled.
Should a footer be incorrectly worded, please refer to this one for accuracy. My apologies for anything excluded that should have been included on this page. Please review Credits at Peggie's Place for anything that may have been inadvertently omitted from this page. My apologies for all errors.
I do not know the origin of floralbar appearing throughout this site. Should you know please advise me at pbohanon@peggiesplace.com so I may seek permission or give proper credit or whatever. Thanks. Peggie.
"" As of June 1, 2015, my visiting readers are asked to have no deletions or additions submitted to any page. - due to circumstances, limited if any deletions or additions. Thanks! Peggie's Place regrets any an all omissions or duplications within any Peggie's Place page or program.
Report problems to pbohanon@peggiesplace.com.

Copyright 1996-2016 by Peggie C. Bohanon, Springfield, MO. - pbohanon@peggiesplace.com. - All rights reserved.