September 20, 2013 Notice!

This "Pick of the Day" feature at Peggie's Place will no longer updated daily but the links as given will remain.

Enjoy! It's been fun! Be sure to check all the archives as well, and God bless, Peggie

See below a large list of three pages of archived links. This is one of the pages.

Pick of the Day - archives
Pick of the Day - more archives . . . . Pick of the Day - more archives"

Monday's Pick of the Day: Alll good things come to an end; today ends this feature - see "http://www.peggiesplace.com/video.htm">"My Indescribable, Personal Christ" for link.



HOME . . . A Site Map of Peggie's Place! . . . Subscribe via email
My Indescribable, Personal Christ . . . Visit The Emergency Room . . . KingdomQuest: Discover the Key to Life

Visit Peggie's Place for lots of fun 'n faith - Christian and family-friendly resources!

16 Resource Rooms . . . Holidays . . . Humor and Inspiration . . . Devotionals . . . Virtual Chocolate Shop
Kids/families . . . . . Teens/students . . . . Women . . . . Men . . . . Seniors . . . . Spanish resources . . . . Internationals



Peggie's Pick of the Day . . .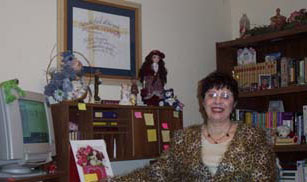 . . . Fun 'n Faith on the Web!

+ + + + + + +
Welcome to the Web - the biggest spider web we've ever seen! What would Great-Grandma and Grandpa say if they could view, for a day, the wonders and "magic" of the Internet! It's a brand new world, and what's a Christian to do--close your eyes and pretend it doesn't exist? Rail against the evils therein? (And they're there!)

No, a thousand times no! We, as believers in Jesus Christ, have the opportunity to be His Light in a dark place, to enjoy the fun and faith we find, and to spread the Good News everywhere! James and John, Peter and Paul would have loved it! Imagine them on Twitter! Wouldn't it be fun to be their friend, to follow them?!?

Come surf with me daily and let's see what "good stuff" we can find - science and sermons, music and math, people and places! Think we can uncover some chocolate here too?? Let's look!!

Recent Archives of Peggie's Pick of the Day
"My Indescribable, Personal Christ"
Remember to tour all the resource rooms at Peggie's Place!"
"Thoughts about God - Daily Devotionals..."
"Richie Parker: Drive - SC Featured - YouTube" - amazing!
"Dr Joey's Photoblog" (Wordpress) - our son's amazing astronomy hobby! (Scroll past "First Amendment Activitiies.")
"Sisters 'n Saints" at Peggie's Place - for Christian women!
The Brooklyn Tabernacle
Pipedreams - 1328 Concert Flashbacks (encore)
The Devotional Buffet - devo archives at Peggie's Place!
"A Prayer Shawl for Destruction in DC; Floods in CO" - by Billie Cash
"The Earth, and All that is in it..." (Godfruits.com)
"The strangest and most beautiful streets in the world"
"Baby Hummingbird Nest - Cool!" (komar.org)
"Father's House" - a worship experience at Peggie's Place!
"Daily Light on the Daily Path Devotional Classic" - compiled by Jonathan Bagster and Family (Wholesome Words edition)
"A Prayer in Crisis" - poem by Peggie
"Remembering 911 - Tragedy of a Lifetime" - a Peggie's Place re-run
The Emergency Room at Peggie's Place
"Man builds life-sized replica of Noah's Ark"
Tower of Strength devotional archives
"Jesus Myths video series released by Focus apologetics ministry"
The Tragedy Room at Peggie's Place! - Remembering 9/11
The Celebration Room at Peggie's Place!
"The Solar System - our home in space" (YouTube)
"I Am the God that Healeth Thee"/a> - Don Moen (YouTube)
"Hurt to Heal!" - poem by Peggie
"Duck Dynasty Gives All Glory to Jesus...Cable Records - (nowtheendbegins.com)
"Thank You" - Ray Boltz (YouTube)
"The Scale of the Universe 2" (htwins.net)
MP3 Archive of the Old Fashioned Revival Hour Broadcast"(biblebelievers.com)
"Gaither Tent Revival - David Phelps and GVB singing He's Alive" - (YouTube)
"Inside the Cardboard Chapel that Replaced an Earthquake-Ruined Church"
"Can You Recite the Ten Commandments? This adorable 5-year-old boy can! Bravo!" - GodFruits.com
"Charlotte Church and Josh Groban Sing 'The Prayer' (Jesus-loves-you.org)
YOUTHLINKS - a fun-n-faith Christian resource for Christian teens and college students - peggiesplace.com
"Let Freedom Ring - from the White House" - Gaither Vocal Band (YouTube)
take a very, very chocolate break!
"It Is Well with My Soul!" - by Tenore (GodFruits.com)
"Mark Rutland: 10 Things I Wish I'd Known when I Was 21" (charismanews.com)
"God Is" - "Meet Me in the Meadow" devotional online with Roy Lessin
"His Eye Is on the Sparrow" - Mahalia Jackson (YouTube)
Agmama's on YouTube! - Peggie's "home on YouTube with lots of linked video resources!
Back to School - Resources at Peggie's Place!
take a very, very chocolate break!
"One Day at a Time" by Cristy Lane - YouTube
"The Coolest Piano Duet You'll Ever See Performed on a Giant Piano at FAO Schwartz - Misc Video" (Godvine.com)
"Photo contest winners capture America the Beautiful - USATODAY.com"
"Rock of Ages" - Wanda's Country Home
"Upon This Rock" - YouTube
"What a wonderful world -- 12 fabulous gardens - CNN Travel"
"Assemblies of God Video on Demand: AGTV"
"That's My King" - Dr. S.M. Lockridge (Official) (YouTube)
"Be Still and Know" (Steven Curtis Chapman song/Godfruits.com)
"275,000 Dominoes...toppled in a spiral!"
List of Online Churches by D. J. Chuang
Tour 16 rooms of Christian/family-friendly resources at Peggie's Place!
"Buckingham Palace Virtual Tour"
"Digital media changes in 10 years. How do we adapt?" (Internet Evangelism Day blog)
National Geographic Traveler Magazine: 2013 Photo Contest (The Big Picture/Boston.com)
"Josh Groban and Andrea Bocelli Sing 'The Prayer'"
"New Zealand, Home of Middle-earth" (YouTube)
Digital #Evangelism Resources
"The 25 Best Beach Towns in New England from Yankee Magazine"
"Captured: America in Color from 1939-1943 (Plog Photo Blog)
"Video of the Fifty States"
"Hope & Humor" from award-winning author James Watkins!
"Praise to the Lord the Almighty" (YouTube)
"The Black Dog of Depression" by Greg Asimakoupoulos (The Partial Observer)
"Garden, Tacoma, Washington" (chippep)
"'Nella Fantasia' - The Official Jackie Evancho Site.FLV" (YouTube)
"What a Week of Groceries Looks Like around the World" (FStoppers)
Brooklyn Tabernacle Choir - "Worthy Is the Lamb" (YouTube)
Casting Crowns - "Praise You in This Storm" (live) - (YouTube)
"Gettysburg 150th National Civil War Battle Reenactment..."
Sandi Patti (Liberty Weekend 1986) - "The Star-Spangled Banner" (YouTube) . . . . Related story by Sandi Patty.
"A Capitol Fourth - America's Independence Day Celebration" (PBS)
"A Cutting-Edge Second Look at the Battle of Gettysburg" (History & Archaeology/Smithsonian Magazine"
"One Nation under God" - "This painting is stunning" - GodFruits.com
"The Walk of Liberty" by Billie Cash
View Pick of the Day Archives!" . . . View MORE Pick of the Day Archives!
"Nik Wallenda Constantly Prayed to Jesus during Successful Grand Canyon Tightrope Walk"
Eat my favorite dessert - chocolate!!
"Faith, Freedom and the Flag" - A July 4 Celebration at Peggie's Place!
"Walking by faith across Grand Canyon tightrope (CT Mobile)
"The Cross and the Switchblade, full movie" (YouTube)
"The Great Passion Play" (Eureka Springs, AR)
"A Prayer for the Mom Who's Worn!" - by Christina Fox (Gospel Coalition)
"Animusic HD - Resonant Chamber (1080p)" - YouTube
"5-year-old Ryan Wang...unbelievable piano prodigy" - Inspirational Video
"Captured: America in Color from 1939-1943 - Plog Photo Blog" (denverpost.com)
"My Heavenly Father Watches Over Me" - Old Fashioned Revival Hour Quartet
"My dad taught me how to say 'No' and 'Yes'" - By Bill Ellis, ASSIST News Service
"The Problem with Socks by Barbara Bush"
"On top of the world! on MSN Photos"
Bible Hub by Biblos - a wonderful Bible study site!
"The Blood Will Never Lose..." by Andrae Crouch/Jason Crabb - YouTube"
"Lord, You're Holy" - Prestonwood Baptist Church choir and orchestra
"Crystal Cathedral Hymn - Awake, My Soul - Mark Thallander, organist" (YouTube)
"Drowning Victim's Visit to Heaven" (CBN)
"NASA creates eye=popping....image of our two nearest galaxies (video)"
"Mark Thallander Interview and Performance at Baylor University" (YouTube)
"8 Panorama Websites for a 360 Degree Virtual Tour around the World"
Gaither Vocal Band - "Alpha and Omega"
"Kari Jobe - Healer LIVE" (YouTube)
"The Warrior's Benediction" (Meet Me in the Meadow Devotional Online with Roy Lessin)

Feature Links!
Music Resources at Peggie's Place!
"S.O.S....Saints on the Superhighway!"
Network211 - "21st Century Technology for the 1st Century Gospel"
"Digital Evangelism Resources"
+ + + + + + +
Needing spiritual help?
The Emergency Room at Peggie's Place! . . . Kingdom Quest...Exploring Christianity
The Story of Jesus . . . . . . I Am Second . . . Global Christian Center - seekers/believers

God Speaks . . . ProdigalsOnly.com . . . AllAboutGod.com . . . "How to Be Sure You're a Real Christian!"

Think a Minute - a Christian thought for pre-Christians . . . Network211.com . . . GlobalReach: Find God . . . JourneyAnswers.com



Peggie's blog, "Fun 'n Faith for the Soul" is no longer available.
F O O T E R
See Search Engine Submission - AddMe
Important note on Bible versions: (and for further info including any copyright info), I recommend you search the exact Bible version on the Internet.) The public domain version of King James Version is primarily used in this Web site; other versions and in-depth information about each may be found at Wikipedia: Bible versions and translations for further information. You may contact me at pbohanon@peggiesplace.com and I will be glad to help you further. Sorry this info is not on the hundreds of references on this site but this info should be very helpful. If there is a problem, please contact me: pbohanon@peggiesplace.com. Sorry for any and all errors. You are welcome to copy/print the poem - Please use "copied with permission" at the end of the poem.)
Note: As of 11/30/15, sites will no longer be checked for dead links. Please contact owner at peggiesplace.com due to tremendous amount of links.

Peggie's Place is a personal ministry website
and has been a member ministry of Gospel.com, a community of online ministries. In limbo at present.

Also, my mobile phone is private and should not be considered a part of my public web site.

See "Credits" on a laptop computer, please, to access current important credit info.

See Credits at Peggie's Place for further information. . . . See Privacy Statement at Peggie's Place! . . .
Peggie's Personal Statement of Faith . . . The Peggie's Place Story & a Mission Statement

Celebrating God's goodness . . . . . . 16 million and more!
Note: Counter keeps a running total of "hits" (which include images and people "hitting" any page or pages),
erroneously identified by me as "page views" for the entire site.
--It jogs around the world and around the clock--to find YOU!
This Christian home has been visited a zillion times since December 26, 1995!
Well, not quite, but there HAS been a houseful--and STILL room for one more--YOU!
The Christian Counter scans the entire site--and there's plenty of chocolate for everyone--so enjoy!
AddThis.com . . . Search Engine Submission - AddMe
Thanks, AddMe, for promoting Peggie's Place, including my new TWITTER page!

Most of the music playing at Peggie's Place originates from Songs of Praise.
Additional (previously named) original source for some midis: Gilberto Barreto.
Visit this great Web site to hear beautiful tunes by many talented artists. CDs are available.

5*-places to visit at Peggie's Place: Tickles 'n Truth . . . The Devotional Buffet
All the rooms at Peggie's Place!

All Scriptures on this website, including all applications, etc., are from the King James Version of The Holy Bible, public domain, unless otherwise noted.
I regret any and all errors. Please notify me so I may correct it. - pbohanon@peggiesplace.com
+ + + + +
Please note that while I strongly adhere to major tenets of the evangelical Christian faith, I may not personally agree with every specific doctrinal belief set forth in other Christian pages.
Life issues include hosting a few private home parties perhaps 30 years ago with "gifts" given me for having a party or many purchases from guests, etc., no dates or total amount available including tax if any. I regret all omissions/infraction of law. Any official may contact me and I will take care of all issues as best I can giving to charity if that is permissible instead of tax or penalty. I regret all omissions and errors on this or any other page on this site.
A safety tip: Internet links and material may include other links and/or material which do not reflect my views or yours, Christian or otherwise. Please choose wisely and use with discretion! And if you find an ugly spider hiding in a dark corner, you may smash it with a broom--I hate offensive stuff too!
Graphics: If your credit does not appear on any individual page, I regret the oversight; please see Credits at Peggie's Place for info,
or email me: pbohanon@peggiesplace.com so I may properly give credit or delete the graphic, as desired.
--Many quote credits in this series: Mikey's Funnies and/or Walking with Jesus Ministries, unless otherwise sourced or not given.
--I have used the symbol - ;-) - in emails, on any social media page, possibly my website and blog, etc; if this is incorrect, sorry for the oversight. Please notify me at pbohanon@peggiesplace.com and I will desist from using it if necessary. Sorry for the oversight and any errors.
Peggie is on Twitter and currently unable to add a profile photo to the most current twitter page - Peggie's "Twitter" account - it appears as a "eggshell" and is not spam. As soon as I can get it working, there will be a photo. The current page is not spam, I assure you. My web site is found at Peggie's Place!.
Should you have source information (original or other) for any other site as well - quote, other photo, duplicate profiles, graphic or article and/or not properly used, or duplicated photos or profiles not permissible, https://twitter.com/Pegleg1940 or other sites, credited, resized, improperly, unpermissioned or inadvertently used as a profile photo, undesirable, etc., "unknown," or from which I should obtain permission, or should linking be inappropriate/non-permissible/inaccurate, or a misunderstanding/error of any and all issues including Tickles 'n Truth articles and graphics, please notify me so I may appropriately resolve the issue.
Please be sure you always are seeing the most recent links to my page by accessing my current Web site, peggiesplace.com. Please notify me if any such errors you find so I may correct them in any of my files, or photos that should be or not have been deleted. I regret any such/similar errors.
Content of many pages have changed since their original creation and use, whether on Facebook, Twitter, Wordpress, etc.
I trust each section of this web site and applications have separate profile photos for each and regret any duplication between various applications/sections. I want to diversify as much as possible. Note: As of 11/30/15, dead links will not be deleted due to large amount. Contact me for details on a specific link. Sorry.
Official and professional wedding photography of Maureen and Jason Bohanon shown on this site was taken by Meg White Photography, Springfield, MO.
Disclaimer: I am not a psychologist or certified counselor or doctor. This personal site is merely a place for spiritual encouragement and help in the practical living of Christian life.
This footer and reference to violations and/or wrongdoing or errors applies to the entire site considered a part of Peggie's Place and its entities - every page of this site and back-up drive, past, present and future, should a page or two have been missed in including this footer at the end of said page.
I am not perfect, have you guessed!! I am a senior having fun and frustration, attempting to tentatively fit into a very, very technical world. Please forgive any and all "infractions," intrusions, inaccuracies of the law; anything I have missed or forgotten, any technical difficulty, any omission of a home or fashion "party," including about 30-years-ago home parties (w/free mdse "gifts" for certain requirements) of which I have no dates, amounts/ and no tax if not requested by party manager), etc., and if so, write pbohanon@peggiesplace.com to let me know and inform me how to correct it properly in accordance with the law. I regret and am sorry for any and all errors on the web and otherwise as mentioned or omitted above, including any home/household "infractions" and verbal wrongs. As well, if I owe any amounts of money for services or items, I am sorry; please bill me at the same address. This includes my personal mobile phone as well as laptop computer.
Most, if all not, devotionals on this site have been written by Peggie unless otherwise specified.
ete any reference on a business card or online, etc. for this phrase. It is not original with me and I regret the error.)
"Facebook" is a popular site on the Internet and also at Peggie's Place. I regret using the term and initials in various places but it is for id purposes only.
The phrase "where strangers are friends who have never met" on this site, and name/ministry cards, etc., was not original (See Brainy Quote and del See copyrights on all articles. If missing, please let me know: pbohanon@peggiesplace.com
I willl correct or delete with your permission.
I regret any and all omissions and errors throughout my entire site and its entities and wish to correct it as necessary. Please contact me. Also, some items on my mobile phone/computer/back-up drie are private and should not be considered a part of my public web site.
Peggie's Place owns no personal trademarked or registered sites requiring symbols of ownership. Neither is indicated trademark symbol for any product.Please disregard any and all errors.
This Peggie's Place footer applies to entire site and ministry of Peggie, and includes all social media, photos and images, included, resized, or omitted in error, inclusions, omissions or inaccuracies, the Fun 'n Faith blog, an extension of the Peggie's Place ministry as well as previously titled "Fun 'n Faith Friday" and "Fun 'n Faith newsletter and any mobile application." Sorry, but email subscriptions have been canceled.
Should a footer be incorrectly worded, please refer to this one for accuracy. My apologies for anything excluded that should have been included on this page. Please review Credits at Peggie's Place for anything that may have been inadvertently omitted from this page. My apologies for all errors.
I do not know the origin of floralbar appearing throughout this site. Should you know please advise me at pbohanon@peggiesplace.com so I may seek permission or give proper credit or whatever. Thanks. Peggie.
"" As of June 1, 2015, my visiting readers are asked to have no deletions or additions submitted to any page. - due to circumstances, limited if any deletions or additions. Thanks! Peggie's Place regrets any an all omissions or duplications within any Peggie's Place page or program.
Report problems to pbohanon@peggiesplace.com.

Copyright 1996-2016 by Peggie C. Bohanon, Springfield, MO. - pbohanon@peggiesplace.com. - All rights reserved.